Blog
by Aethyna
Feb 24, 2021
Online card game platform allows players to enjoy solitaire, mahjong, and many more for free.
Read More
by Mikhail
Feb 23, 2021
Infinity Kingdom is a real-time strategy game where you'll take the mantle of a lord tasked to defend the land from gnomes in the land of Norheim. You will rebuild a base with the help of alchemists, raise an army to fight gnomes and fend off other players, and summon immortals!
Read More
by Aethyna
Feb 19, 2021
Skrmiish is a pioneering app-driven gaming platform that allows streamers, PC gamers, teams, and brands to create and monetize their own competitive gaming experience anytime, anywhere.
Read More
by Mikhail
Feb 18, 2021
Valheim is a survival exploration game where you play as a recently-deceased Viking warrior in charge of slaying Odin's rivals in the realm of Valheim. Explore the world filled with lush forests, varied landscapes, and mythical monsters and build castles, mead halls, and thriving settlements with your friends!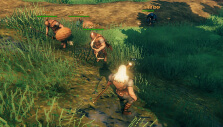 Read More
by Mikhail
Feb 14, 2021
In the last few years, we've seen many indie titles shine, rivaling even those created by triple-A studios. These games play an impactful role in the industry today, and here's why:
Read More
by Aethyna
Feb 13, 2021
Torn Banner Studios and Tripwire Presents Invite Players to Experience the Next Era of Melee Combat with Cross-Play Closed Beta Access Beginning March 26th on Epic Games Store, PlayStation®4, PlayStation®5, Xbox One, and Xbox Series X/S
Read More
by Aethyna
Feb 13, 2021
No need to hide or seek your wallet!
Read More
by Mikhail
Feb 13, 2021
Might & Magic Era of Chaos is an adventure RPG that doubles as a tactical RTS. Here, you'll accompany Queen Catherine in her quest to restore the Kingdom of Erathia. Make her journey successful by recruiting powerful units and upgrading their equipment, and, of course, win fast-paced tactical battles.
Read More
by Aethyna
Feb 13, 2021
Alliances from all over the world will battle for a spot in the playoffs
Read More
by Aethyna
Feb 11, 2021
Players Can Ring in the Year of the OX with Unique In-Game Events, Bonus Rewards, New Summonable Characters, and More
Read More
Older Posts
Blog Archive
Featured Games
Taonga Venture through the thick jungles of an island paradise that you own to reveal its secrets in Taonga!
Blade & Soul Avenge your massacred brothers and sisters in Blade & Soul's epic story of war and betrayal!
Fer.al Embark on an exciting adventure through the many iconic locations in Fer.al as a sleek animal avatar!
Forge of Empires Starting with a small Stone Age settlement it is your task to create an empire and follow it onward throughout the centuries!
Sinespace Explore tons of gorgeous, player-created worlds or create your own in Sinespace!
Lady Popular Dress to impress in a stunning virtual fashion game where you can own the catwalk.
Statistics
Games1,329
Articles436
Surveys64
Blog Posts3,926
Users3,059
User Reviews159
Find us on Facebook