SAO's Legend
by Aethyna
Jun 28, 2016 | 11 Votes | 16 Played | 6 Reviews
6.5
rate
In the realm of the Fairy King, he rules supreme. Unfortunately, he has a beef to settle with you and had somehow trapped you within his beautiful yet deadly realm. Are you strong enough to defeat your captor and his minions, and escape from this "fairytale hell" in SAO's Legend? Play now and find out!
Play Now
Similar Games
Played
People Also Played
Summary

In the realm of the Fairy King, he rules supreme. Unfortunately, he has a beef to settle with you and had somehow trapped you within his beautiful yet deadly realm. In this brand new MMORPG derived from the popular game, Sword Art Online, SAO's Legend allows you to experience the fun gameplay of a classic browser-based MMORPG while giving you plenty of space to develop and customize your character to suit your play style. Work together with other players to take down tougher creatures or engage in a friendly duel with them at the arena. Do you think you'll be strong enough to finally defeat your captor and his minions, and escape from the "fairytale hell" you're trapped in? Play SAO's Legend now and find out!


Plotline

SAO's Legend doesn't have much of a storyline as it simply pits you against 1 fight after another. However, after around 20 levels or so of fighting, you'll start to get a glimpse of what the story of the game might be.

It seems that you must have somehow offended the Fairy King, and due to this, he has trapped you in his fantastical realm filled with monsters and creatures who are eager... perhaps a bit overeager... to deliver you to the King himself and get some brownie points in return. If you ever hope to escape this game of death, you'll need to survive the onslaught as you head towards what you've presumed is the exit to this "fairytale hell". Will you be able to make it?


Gameplay

Unlike most browser MMORPGs, SAO's Legend require you to first verify your email address before you can actually log in to play the game. However, on the flipside, they give you a free CD Key that can be turned in for a pretty nice gift pack... so, for me at least, all's well and dandy. Some players might be put off by the quite forceful way the game uses to get you to verify your email address though.

That being said, once you've chosen any of the US servers available – yes, unfortunately, they only offer US servers at the moment, you can head straight into the character selection process. SAO's Legend offers 4 archetype classes for you to choose from, namely swordsman, ranger, priest and knight. The character classes all have fixed genders and lack any form of customization, which is pretty common in browser-based MMOs. However, I personally do have an issue with the lack of class descriptions and the lack of a mage class in SAO's Legend.


Similar to most web-based MMORPGs, SAO's Legend has a pretty high leveling rate – you can easily reach level 25 and above within an hour or so – and has automated quite a lot of the gaming process so you can technically be AFK and the game will still go on. Of course, if you insist on playing the game manually... well, you'll still be able to do so.

Most of the gameplay involve some straight-up "tank and spank". Though, there's 1 situation that I've encountered in the game which kind of forces me to move my character out of the way of some sort of spell bombardment in between the "spanking". However, if you simply decide to weather through the damage, you'll still be able to do so and come out of it virtually unharmed... thanks to the game's automated potion-consuming system (provided that you turn on auto-combat, of course).

Furthermore, in SAO's Legend, the Battle Rating (BR) of your character is crucial in determining how strong your character is. Due to its importance, the game provides a crazy lot of ways for you to improve your BR. One of the easiest method is by upgrading your character's skills. Each skill can be upgraded multiple times, and, since the upgrade process only consumes game cash (Cor) and Spirit, you can level up your skills pretty quickly. Having said that, each upgrade process is subjected to a success rate, which will come into play when you reached higher skill levels.

The next thing you could do to bump up your character's BR is by upgrading his or her gear. There are a range of methods for you to do so. You can start by "polishing" your gear using materials and Cor. This process is a bit tedious than upgrading skills, because although they both uses the similar success rate system, you'll need to successfully "polish" a gear item for 10 times before you can increase the level of the item by 1. Besides polishing, you can also add Gemstone Essence to your gear items to activate the items' embedded gems. Each gear item has 3 gems that you can activate and once activated, the gems will grant your gear additional stats, which will subsequently, boost your BR.

Aside from gear and skills, you can also get yourself an NPC girlfriend in SAO's Legend through the game's romance system. There are only 4 "girlfriends" so far that you can get hitched to and each of them have their own "star maps", which are technically stats-boosting talent trees. The odd thing about this system is that you'll get a "Girlfriend" – emphasis on the word "Girl" – regardless of the gender of your character. So, if you're playing a Ranger or a Priest, things can get a bit awkward here.

Anyway, there are also mounts that you'll need Mount Stones to level up, wings that can also be upgraded and Navigation Pixies, which basically are pets that not only increase your BR but will also aid you during combat. There are titles that you can equip and special "concoctions" that you can consume to permanently boost up your character's stats as well.

If you're level 50 and above, you'll even be able to find a Lover (through the same Romance system) by simply asking a player of the opposite gender. Once any one of them agreed, you can then start building up "intimacy points" with him or her to the point where you can marry them. Naturally, these points will contribute to further stat bonuses that you'll definitely need if you aim to be one of the best player in SAO's Legend.


In terms of things you could do in this game, you can enjoy some exciting PvE or PvP challenges or participate in the game's "limited time only" events. For PvE, you'll get access to a variety of instances, such as treasure instances where you can get upgrade materials, and gear instances in which you can earn yourself some rare pieces of gear. There are also encounters which are basically chapter-based campaign dungeons that offers first pass rewards. For players who enjoy PvP, there is an arena where you can challenge other players to duels and prove yourself in combat.

If you're looking to get that extra advantage in SAO's Legend, you can opt to buy premium gems and rank up in the game's tiered VIP system, or a monthly pass where you'll be afforded more privileges than a normal VIP. Premium gems can instead be used to buy upgrade materials, boosters, potions and more. There are also plenty of freebies that you can take advantage of, such as the Benefit Hall where you merely need to sign in daily to get some amazing stuff; or achievement rewards. By simply staying online, you can even unlock more backpack slots.


Community

Although most lower level players tend to play alone, once a player reach level 30, he or she will be inducted into a guild... and that's where the majority of the community is. Unlike most MMO games where guilds are created by the players themselves, the guilds in SAO's Legend are fixed. There are 3 different guilds to choose from, namely Laughing Coffin, Knight of the Blood and Sleeping Knights. Once you're in, you can be a contributing member of the guild by donating Cors or gear items, or participating in the many guild events like guild quest, Alne Search, and Guild Red Envelope.

By being an exemplary member of the guild, you'll earn guild contribution points which you then exchange at the Guild Shop for some nice items. You may also be promoted within the guild, allowing you access to the Guild Warehouse.


Graphics/ Sound

The graphics in SAO's Legend are pretty nice, though there are times when the visuals turn out quite blurry. However, that might be caused by the latency issue in the game. For sound, the game has a range of some pretty good music, ranging from a techno-like and fast-beat music to a more soothing music. The music changes from 1 major zone to the next.


Conclusion

To sum up, SAO's Legend is browser-based MMORPG that may not live up to the original Sword Art Online game, but is fun and entertaining in its very own way. Featuring the classic and automated gameplay of most web-based MMORPG, you'll get to enjoy the level progression process of your character and the camaraderie with the other players as you all work together to bring glory to your guild. Although SAO's Legend has some parts where it needs to improve on, it is still an MMORPG that's worth trying out, especially for fans of Sword Art Online and casual MMO gamers. If you happen to fall into any of these categories, be sure to drop by the game's website and give it a try!
SAO's Legend Blog
by Aethyna
Jun 28, 2016
In the realm of the Fairy King, he rules supreme. Unfortunately, he has a beef to settle with you and had somehow trapped you within his beautiful yet deadly realm. Are you strong enough to defeat your captor and his minions, and escape from this "fairytale hell" in SAO's Legend? Play now and find out!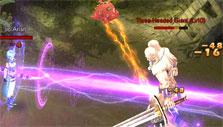 Read More
User Reviews
Please fill in the title and the full review fields
The review text can be a maximum of 10000 characters long
Please rank the game before submitting your review
The review title can be a maximum of 50 characters long
Sep 30, 2016 | 0 Votes
0
0
just a question
how do you leave a guild
Full Review
Sep 3, 2016 | 0 Votes
0
0
Connection Problems
While this game is, in my opinion, awesome, there is one major flaw. The servers have trouble connecting, or at least the one I am on. It often says that there are connection errors, returning you to ...Full Review
Aug 19, 2016 | 0 Votes
0
0
5.3 ? Play this Game "Ignore Rate Score"
One of my Daily Games - I also watch Season 1 and Season 2 Anime that this game is based on Netflix - Play for 3 days... You will most likely love this game as much as I do!Full Review
Aug 17, 2016 | 0 Votes
0
0
Blatant Copyright Infringment
Carbon copied wings, weapons and monsters from MMO AION.Full Review
Aug 6, 2016 | 2 Votes
2
0
Horrible comapny
I highly recommend staying away from this game. It's okay if you don't mind playing for free in a P2W game, which means you'll obvious not win. I played and got to VIP 6 off the bat, th...Full Review
All reviews
Featured Games
Second Life Build your own perfect place in the biggest virtual world around.
ArcheAge Explore a world with limitless possibilities in a stunning Sandbox MMO.
Trove If you love Minecraft or any other voxel-based MMORPGs, you'll definitely enjoy playing Trove!
Blade & Soul Avenge your massacred brothers and sisters in Blade & Soul's epic story of war and betrayal!
Forge of Empires Starting with a small Stone Age settlement it is your task to create an empire and follow it onward throughout the centuries!
Sinespace Explore tons of gorgeous, player-created worlds or create your own in Sinespace!
Statistics
Games1,266
Articles371
Surveys64
Blog Posts3,414
Users2,866
User Reviews156
Find us on Facebook