Friday Night Funkin'
by Mikhail
Mar 29, 2021 | 1 Votes | 97 Played | 0 Reviews
10
rate
Friday Night Funkin' is a rhythm game made by ninjamuffin99 and friends where you play as Boyfriend and engage in epic rap battles to try and get together with Girlfriend. Go up against characters like Daddy Dearest, Senpai, and Pico. Hit those beats and rap your way to victory!
Play Now
Similar Games
Played
People Also Played
Summary

Rhythm games have always been a large part of the industry, with titles like Dance Revolution, O2 Jam, and Guitar Hero dominating the charts. Friday Night Funkin' joined this rather stellar cast back in October 2020. Though it isn't a heavy-hitter like the franchises mentioned above, it managed to make its mark on the indie charts and even grow a massive online community. It may sound surprising for an indie game with relatively simple gameplay mechanics to achieve this, but it managed to impress thanks to its charming art style and well-made tracks.

With this in mind, is Friday Night Funkin' an indie you'd want to try out? To help you out, let's check out what it has in store:


Plotline

In Friday Night Funkin', you play as Boyfriend, a young singer/rapper trying to get together and win a date with Girlfriend, the lady sitting on the speakers bobbing her head up and down during the rap battles. Unfortunately, Boyfriend won't get this done unless he defeats Girlfriend's evil ex-rockstar father, Daddy Dearest, along with other characters that stand in his way.

Although there's barely any dialogue that explains the story's events, you'll quickly understand and dive into its fun and quirky plot. In a way, it's comparable to cult classic Scott Pilgrim vs. the World, but in lieu of action-packed comedy-laden fights and dialogue, you'll engage in rap battles.


Gameplay


Friday Night Funkin' is developed by Newgrounds users ninjamuffin99, PhantomArcade, evilsk8r, and KawaiSprite for Ludum Dare 47, a game jam event. Since then, it has grown into a full-fledged and continuously developing game, available on Newgrounds and Itch.io.

Its gameplay is straightforward: you'll engage in rap battles against various characters, trying to help the protagonist, Boyfriend, win a date with Girlfriend. No, you don't have to sing on a mic and drop some sick beats. Instead, it uses rhythm-type gameplay akin to Dance Revolution on the PlayStation 1. Instead of a floor button mat, you'll have to use the arrow keys.

Yes, the way you play may sound rather dull, but the game is everything but that. You can adjust difficulty levels according to your preferences, making the beats faster or slower while increasing or decreasing them in number. Moreover, your hand and eye coordination need to be advanced if you want to tackle the advanced levels in Hard mode, as it may be hard to keep track and time incoming arrows perfectly. Currently, there are two game modes: Story Mode and Free Play. In the latter, you can go through Boyfriend's yet-to-be-finished journey to win a date, while Free Play lets you play the game and listen to the tracks even without the story.

The story mode has six levels (barring the tutorial), each with its unique antagonists and tracks. You'll first go up against Girlfriend's father, Daddy Dearest, and in the future, battle against her mother, Mommy Mearest. If you've played other Newgrounds games before, you'll see familiar faces like Pico and Skid and Pump. Some of these levels have multiple phases, with antagonists getting frustrated at Boyfriend's tenacity, adding more dimensions and variety to the gameplay. As of today, it only has six levels, with Senpai, a dating simulator protagonist being the latest rival, with more planned in the future.

You can play Friday Night Funkin' on its main page on Itch.io or via Newgrounds on your browser. The game runs beautifully, even on a potato computer, and I didn't have issues when I played it. The beats and buttons are fairly responsive, enabling players to time presses perfectly without any latency issues and bugs.


Community


Friday Night Funkin' would not have reached this level of popularity and grown to become a cult classic without the support of its large and fantastic community. It has a thriving community on Reddit, posting fanart and memes, and Discord servers where you can interact with other fans. Meanwhile, there are also modders creating Friday Night Funkin' mods, which will enhance and add variety to the overall gaming experience.


Graphics/Sound

In terms of presentation, Friday Night Funkin' reminds us of the flash games of yore, particularly those on Newgrounds. Though it doesn't compare to its more modern-looking and high-definition peers, its overall look is comparable to Saturday morning cartoons we all used to watch as kids. Meanwhile, the funky tracks by KawaiSprite are a joy to the ears and are a perfect fit for the rhythm-based gameplay.


Conclusion

Overall, Friday Night Funkin' is, without a sliver of doubt, one of the must-play indie games and rhythm games you have to try out. Its quirky cast of characters and fun story can't help but make you root for Boyfriend, while the tracks composed by KawaiSprite are perfect for the game. To top this off, it has a thriving community of fans and modders who support the creators and for you to discuss the game with. It's not just a game you'd want to play, but also a fandom you'd like to be a part of.
Friday Night Funkin' Blog
View all
by Mikhail
Mar 29, 2021
Friday Night Funkin' is a rhythm game made by ninjamuffin99 and friends where you play as Boyfriend and engage in epic rap battles to try and get together with Girlfriend. Go up against characters like Daddy Dearest, Senpai, and Pico. Hit those beats and rap your way to victory!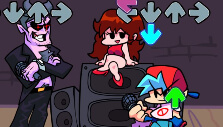 Read More
by Aethyna
Mar 28, 2021
Surprisingly it isn't the dad battle - At least not for me!
Read More
View more
User Reviews
Please fill in the title and the full review fields
The review text can be a maximum of 10000 characters long
Please rank the game before submitting your review
The review title can be a maximum of 50 characters long
Featured Games
Blade & Soul Avenge your massacred brothers and sisters in Blade & Soul's epic story of war and betrayal!
Fer.al Embark on an exciting adventure through the many iconic locations in Fer.al as a sleek animal avatar!
Forge of Empires Starting with a small Stone Age settlement it is your task to create an empire and follow it onward throughout the centuries!
Sinespace Explore tons of gorgeous, player-created worlds or create your own in Sinespace!
Lady Popular Dress to impress in a stunning virtual fashion game where you can own the catwalk.
Tribal Wars 2 Rally your armies, fortify your castle walls and lead your soldiers to glory in Tribal Wars 2 today!
Statistics
Games1,340
Articles451
Surveys65
Blog Posts4,045
Users3,089
User Reviews159
Find us on Facebook