Farm Heroes Saga
by Aethyna
Mar 30, 2015 | 2 Votes | 1 Played | 0 Reviews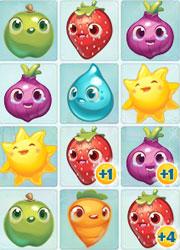 9.5
rate
In this game, you are in charge of harvesting the cropsies and driving the mischievous Rancid the raccoon from the farm. Boost up your adorable cropsies via the multiplier system with every match you make and enjoy the various challenging levels in Farm Heroes Saga!
Play Now
Similar Games
Played
People Also Played
Summary

Farm Heroes Saga is a match-3 game by King that has a unique take on the genre! In this game, you are in charge of harvesting the cropsies and driving the mischievous Rancid the raccoon from the farm. However, instead of providing the usual Candy Crush Saga or Bejeweled fanfare, it uses a multiplier system that boosts up the adorable cropsies whenever you perform a match. There are also modes as well as blockers that are one-of-their-kind in this game! With the magic beans you earn from playing, you can buy power-ups or boosters to help you defeat the big baddie Rancid! So, head on over to Farm Heroes Saga to give the game a go today! You know you want to!


Plotline

Rancid the meddlesome raccoon is loose among the farms wrecking up a huge havoc! The farm animals there decided that enough is enough and that Rancid have got to go! However, before doing that, they will need your help to harvest all the cropsies on the field first. Can you help the piglet, doggie and chick gather the cropsies up and drive Rancid away for good?


Gameplay

The game starts immediately with a clear-cut tutorial introducing you to the family of adorable cropsies, which generally consist of apple, strawberry, sun, carrot, water droplet and onions, as well as the unique match-3 multiplier system that Farm Heroes Saga uses. Like every other match-3 game, you will have to complete matches of 3 or more of the same cropsies by swapping them around in order to 'harvest' them from the board. Each match of 3 cropsies will randomly give some of their surrounding cropsies a special +1 bonus. The +1 bonus acts as an additional cropsie. For example, if you completed a match of 3 cropsies with 2 of them having a +1 bonus, then you'll be credited with harvesting 5 cropsies instead (along with a score boost, of course)!

For matches of 4 cropsies, the bonus provided is 2 times more than for a match of 3 cropsies (which can be translated into 2 additional cropsies) while for T-shaped or L-shaped matches, more bonuses will be given out to the surrounding cropsies and some of these bonuses can get up to +3. These bonuses can be stacked up to count for even more cropsies too! Let's not forget the amazing yet rather rare 5-cropsie matches, which will have the 'super-power' to remove all the same cropsies from the board! However, if you don't use these bonuses in the round right after they appear, the bonus will decrease by 1 for every subsequent round.

The level objectives in Farm Heroes Saga are pretty special as well! The first level type that you'll encounter is the basic "collect a specific number of cropsies". However, do not underestimate this level type. Although they may be a common occurrence in this game, they can be rather difficult to complete at times… particularly when various obstacles are thrown into the mix!



There are various types of obstacles that you will come face to face with in this game. Some of them, such as the eggs or the flowers, can be easily removed from the board by performing multiple matches in the 3x3 area surrounding these obstacles. As you progress, you will also encounter buckets. Buckets, when used, will spawn the 'water droplet' cropsies at random places on the board. There are even bomb cropsies, which are normal cropsies with a countdown timer for a face. These bombs will drastically change the placements of cropsies on your board when exploded and they will not reward you with any points for the cropsies destroyed in the blast.

Some obstacle may have work in a more complicated manner in Farm Heroes Saga. One example of this sort of obstacles is the hungry rabbit. The hungry rabbit will go underground for 1 turn and pops up to eat a carrot on the second turn. If you combined a match near it, you can daze the rabbit for 3 turns, but you cannot move it nor can you permanently remove it from your board. There is also the seed, which will turn slime or water into grass when matched. Not to mention, although the game does not impose a time limit on you, it uses another way to challenge you, that is by providing you with limited moves.

The second level type requires you to collect all the animals for your farm club by achieving all 3 stars. To be fair though, you will still get something even though you've earned only 1 or 2 stars for this type of level. For example, for 1 star, you may get a chicken, while for 2 stars, you will get both the chicken and the sheep. Of course, if you get 3 stars, you will earn all the collectible animals for your farm club! Farm club is something like your home base in Farm Heroes Saga. It shows you what animals you have collected in your journey. Moreover, it even provides sets of animal collections for you to complete! When completed, you will not only have the feeling of satisfaction, you will also be rewarded with some really nice in-game boosters too!

The last type of encounter is the 'Rancid encounter', whereby you will have to perform certain matches to reduce Rancid's health and defeat him. Levels of this sort will usually have specific types of cropsies that you should make matches from in order to be able to decrease Rancid's health, making the level much more difficult than it seems. However, with an arrogant Rancid taunting you on your left side of your screen, you will definitely find the motivation that you'll need to give him a very good beating… the 3-star-worthy sort of 'beating', so that he'll leave the farm with his tail between his legs! With 3 stars (and nothing less), he will also considerately leave you the key to the next farm district (stage)!

Nonetheless, if you didn't get pass any of the levels, you will lose a life. There are a maximum of 5 lives and you will regain 1 life approximately every 10 minutes. If waiting for lives is just not your style, you could try begging your friends for lives or even spend some money to buy some. Both ways work equally well, but if you have active friends who play this game with you, it'll be great to get lives from them for free as opposed to spending money, of course!

Furthermore, Farm Heroes Saga also has a special plan for any leftover moves that you may have after you've completed the objectives. This special plan is called the 'Hero mode'! In Hero mode, the game will randomly showers multiplier bonuses to cropsies on the board and you will be able to use your remaining moves to fill the growth bar (the bar that is keeping your score), earning you more magic beans! These magic beans can then be used to buy boosters, such as the shovel, tractor, bonus rewarder and color collector.



Not all boosters in this game can be bought with magic beans though! There are some, which are much more special, that can be bought using gold bars. Gold bars are the currency that you can buy using real money in Farm Heroes Saga, by the way. Some examples of these special boosters include super fruit, which collects all the surrounding fruits and adds a +2 bonus to other fruits in the vicinity; hungry dog that will eat all cropsies of your choice and of course, the egg crusher, which will advance all eggs on the board by 1 level without combining them.

With a total of 52 stages, there will always be a level waiting for you to solve if you start playing it now! The game even has several planned releases – yay, more stages! – soon too, so this is a great time to jump on the bandwagon and join the many players in Farm Heroes Saga!


Community

Farm Heroes Saga surprisingly did better than any other King's titles, except Candy Crush Saga (of course) as well as Pet Rescue Saga, and has 27 million likes on its Facebook page as of recent! Furthermore, it boasts of 10 million monthly players – that's the approximate population of the country of Belgium and Hungary! The fan page also acts as a place where players can meet new active players, who actively gifts lives to their friends! There will even be the occasional giveaway contest organized by King too! It's indeed great to keep an eye on this game's Facebook page!


Graphics/ Sound

The cartoony characters, particularly the cropsies, in Farm Heroes Saga are designed with big shiny eyes to evoke plenty of 'awww, it's so cute!' moments that are very common when visiting friends or relatives with newborns or ridiculously adorable pets in the house. The background graphics in this game are very vibrant and colorful as well, providing a well-rounded feeling of joy and fun! The music is also pleasant and catchy in this game and it fits the theme of the game so nicely that it may bring to mind the soundtracks from other farming games.


Conclusion

Although Farm Heroes Saga has some of the most complicated rules among match-3 games, it provides a very refreshing look to the match-3 genre by having a multiplier bonus system, setting itself apart from the other games developed by King, especially the high-successful Candy Crush Saga. In this game, strategy is a must in order to achieve the level objectives, considering that you are given limited moves. The game even offers some sort of a 'boss level' whereby you will have to defeat the big bad Rancid the raccoon to unlock the subsequent stage in the game. There are boosters that you can buy using magic beans that you've earned that can help you tremendously when used correctly as well! So, come on over and start harvesting cropsies today! The farm can't harvest itself, you know!
Farm Heroes Saga Blog
by Aethyna
Mar 30, 2015
In this game, you are in charge of harvesting the cropsies and driving the mischievous Rancid the raccoon from the farm. Boost up your adorable cropsies via the multiplier system with every match you make and enjoy the various challenging levels in Farm Heroes Saga!
Read More
User Reviews
Please fill in the title and the full review fields
The review text can be a maximum of 10000 characters long
Please rank the game before submitting your review
The review title can be a maximum of 50 characters long
Featured Games
Blade & Soul Avenge your massacred brothers and sisters in Blade & Soul's epic story of war and betrayal!
Fer.al Embark on an exciting adventure through the many iconic locations in Fer.al as a sleek animal avatar!
Forge of Empires Starting with a small Stone Age settlement it is your task to create an empire and follow it onward throughout the centuries!
Sinespace Explore tons of gorgeous, player-created worlds or create your own in Sinespace!
Lady Popular Dress to impress in a stunning virtual fashion game where you can own the catwalk.
Tribal Wars 2 Rally your armies, fortify your castle walls and lead your soldiers to glory in Tribal Wars 2 today!
Statistics
Games1,354
Articles473
Surveys65
Blog Posts4,190
Users3,137
User Reviews159
Find us on Facebook