Blog
by Other Contributors
Mar 31, 2021
Hello there and welcome to our top ten tips for Planet Zoo!
Read More
by Aethyna
Mar 31, 2021
You can now get the Southeast Asia Animal Pack on Steam!
Read More
by Aethyna
Mar 31, 2021
A Retro-Futuristic Golf Management Sim, Tower Defense, Pinball Hybrid from MinMax Games, the makers of Space Pirates and Zombies 1 and 2
Read More
by Aethyna
Mar 30, 2021
The award-winning, neo-nostalgic adventure sees the eponymous protagonist set out to save the Digital Kingdom from the nefarious rogue code Stallions.
Read More
by Aethyna
Mar 30, 2021
It's Time To Herd Your Family Home
Read More
by Aethyna
Mar 30, 2021
Odyssey's Alpha phase offers players their first hands-on experience with the eagerly awaited expansion
Read More
by Aethyna
Mar 29, 2021
Ylands heads deeper into uncharted territories with latest update.
Read More
by Mikhail
Mar 29, 2021
Friday Night Funkin' is a rhythm game made by ninjamuffin99 and friends where you play as Boyfriend and engage in epic rap battles to try and get together with Girlfriend. Go up against characters like Daddy Dearest, Senpai, and Pico. Hit those beats and rap your way to victory!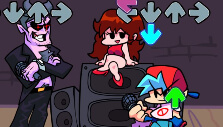 Read More
by jose
Mar 28, 2021
Apparently, there is such a thing as a Gaming Browser and Opera Software just released it. Known as the Opera GX, let's take a look at what it is all about.
Read More
by Aethyna
Mar 28, 2021
Surprisingly it isn't the dad battle - At least not for me!
Read More
Older Posts
Blog Archive
Featured Games
Blade & Soul Avenge your massacred brothers and sisters in Blade & Soul's epic story of war and betrayal!
Forge of Empires Starting with a small Stone Age settlement it is your task to create an empire and follow it onward throughout the centuries!
Sinespace Explore tons of gorgeous, player-created worlds or create your own in Sinespace!
Lady Popular Dress to impress in a stunning virtual fashion game where you can own the catwalk.
Tribal Wars 2 Rally your armies, fortify your castle walls and lead your soldiers to glory in Tribal Wars 2 today!
Lineage II Explore through the lands of Aden in a living and breathing, epic fantasy-based MMORPG, Lineage II!
Statistics
Games1,737
Articles598
Surveys65
Blog Posts6,500
Users3,534
User Reviews162
Find us on Facebook