Blog
by Aethyna
Jun 30, 2020
Desperados III Accolades Trailer released.
Read More
by Aethyna
Jun 30, 2020
In the new interactive trailer, the choice is actually yours - with generous permission from the benevolent Furon Empire.
Read More
by Mikhail
Jun 30, 2020
Join us as we talk with Dennis Bernardo, the Producer of KartRider Rush+, about their game and what they have in store for the future!
Read More
by Aethyna
Jun 30, 2020
Check out the roadmap for The Waylanders!
Read More
by Aethyna
Jun 29, 2020
Leaving Early Access featuring a Story Campaign and an Improved Maker Mode
Read More
by Mikhail
Jun 28, 2020
Edna & Harvey: The Breakout is a puzzle adventure game where you try to help Edna and her talking bunny plush Harvey escape the sanatorium. Solve difficult puzzles and interact with a variety of characters. Remastered on the Switch, you get to enjoy excellent visuals, art style, and a refreshing take on the point-and-click genre.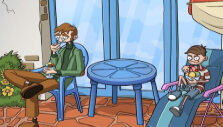 Read More
by Mikhail
Jun 27, 2020
Hop on your spacecraft and explore the universe of Everspace 2. Battle bandits and various factions using a variety of weapons and grab all the loot you can get.
Read More
by Aethyna
Jun 26, 2020
Free Nintendo Switch demo coming in August
Read More
by Aethyna
Jun 26, 2020
Guildmaster Update Trailer: free roster management, revamped out-of-dungeon experience, reworked tutorial, new Cave biome, online co-op multiplayer beta, and more. Also available with a 25% discount during Steam's Summer Sales.
Read More
by Aethyna
Jun 26, 2020
Launching with the "Good Boy Pack" and a limited-time 10% discount
Read More
Older Posts
Blog Archive
Featured Games
Blade & Soul Avenge your massacred brothers and sisters in Blade & Soul's epic story of war and betrayal!
Forge of Empires Starting with a small Stone Age settlement it is your task to create an empire and follow it onward throughout the centuries!
Sinespace Explore tons of gorgeous, player-created worlds or create your own in Sinespace!
Lady Popular Dress to impress in a stunning virtual fashion game where you can own the catwalk.
Tribal Wars 2 Rally your armies, fortify your castle walls and lead your soldiers to glory in Tribal Wars 2 today!
Lineage II Explore through the lands of Aden in a living and breathing, epic fantasy-based MMORPG, Lineage II!
Statistics
Games1,868
Articles639
Surveys65
Blog Posts7,498
Users3,669
User Reviews162
Find us on Facebook