Gameforge
Jun 18, 2015 | 1 Votes
by Aethyna
9
rate
Gameforge is one of the leading international publishers of free-to-play online games that are either client-based or browser-based. The company was established 2002 and since then, their impressive portfolio has drastically expanded to cover a huge range of game genres. Let's find out more about this amazing company!
Who are they?
Gameforge is one of the leading international publishers of free-to-play online games that are either client-based or browser-based. Established back in 2003 by their founders, Alexander Rosner and Klaas Kersting, this German games company has grown from a small startup into a multinational corporation with over 500 employees across its many offices worldwide. In fact, besides its headquarters in Karlsruhe, Germany, the company also has offices in other cities in Germany, like Hamburg and Mannheim, as well as in cities in other countries like Paris, San Francisco and Malta.

Gameforge is a company that believes in the free-to-play business model. Even their company slogan states that they believe in "a world without limits, in which everyone can play without restriction". Furthermore, the company also offers a wide selection of prize-winning clients and browser-based games, including notable ones like Ikariam, S.K.I.L.L. 2, TERA: Fate of Arun and AION. These games have been published in various languages, particularly popular titles. For instance, Ikariam has been translated into more than 36 languages! Maybe this is why the number of registered players at Gameforge keeps increasing... after all, 450 million registered players can't possibly be all wrong!




In addition, Gameforge is a member of a member of the German Trade Association of Interactive Entertainment Software (BIU), the interest group of providers and producers of entertainment software in Germany. It is also a member of the G.A.M.E. Bundesverband der Computerspielindustrie e.V. (Federal Association of the Computer Games Industry). The company even offers scholarships for Information Technology/Game Development course at the SRH Hochschule Heidelberg.

What do they do?
After its establishment, Gameforge tried to find its footing in the games developing and publishing market for almost 3 years. However, their efforts paid off in 2006, when they launched one of the earliest Asian online MMORPG in Europe, Metin 2. It is a huge milestone as this game is the company's first client-based game – they mainly deal with browser games previously.

However, their break to "stardom" arrived in 2009 in the form of Ikariam, an MMO strategy game that allows players to rule an island kingdom, trade and conquer other islands in an ancient world, as well as their cartoon-inspired MMORPG, NosTale. Both amazing games have earned the company numerous awards, including the prestigious Deutscher Entwicklerpreis (German Developer Award), Browser Game of the Year 2009: Best Economic Simulation, Browser Game of the Year 2010: Best Strategy as well as Pochi Award for Best Video Game! In fact, the word "impressive" doesn't seem to cut it for Gameforge, they'll just need to come up with an even better word!

Due to its hunger for developing and publishing games, Gameforge has earned itself the Technology Pioneer 2009 Award at the World Economic Forum, International Business Award 2012 ("Stevie"): Company of the Year – Media & Entertainment, Red Herring 100 Europe Award 2012 and is also nominated in Deloitte Technology Fast 50, Deloitte Technology Fast 50 Rising Stars and Deloitte Technology Fast 500 EMEA! It is even given an award for being a top employer in 2010 and is given a "MINT minded Company 2015″ seal in 2015 for being outstanding employers!

With Gameforge's rapid rise and increasing number of staff, its number of registered players ballooned as well, particularly due to the company gaining international recognition for its games! The company ended last year while sitting at a whopping 450 million players and that number is expected to rise even further this year! How is it possible for Gameforge to achieve so much in such little time? Well, let's find out, shall we?

One of the reasons to Gameforge's success that I could think of is that the company caters to a huge range of audiences. No matter what you enjoy, you will certainly find a game suitable on Gameforge's game portal. For the hardcore gamers, the site offers highly popular MMORPGs like TERA: Fate of Arun, Metin 2 and AION to competitive MMO shooters like S.K.I.L.L. 2 and MMO flight shooter, Air Rivals. There are also strategy games for the strategy game fans, such as Ikariam and recently, they have also launched an MMOCCG (technically it is in Open Beta) called HEX: Shards of Fate that has celebrated its first esport event March this year!

Fans of text-based games could also find games they will enjoy at Gameforge, such as Therian Saga, KingsAge and Bitefight, while if you're more of an action/arcade RPG gamer with a penchant for anime games, you will surely love Elsword. Gameforge even has a kid-friendly game – Wizard 101, for their underage players too!

Another reason Gameforge is successful stems from their willingness to change and to take in feedback, both good and bad, from their players. One prime example occurs in late 2013 to early 2014 when its TERA community expressed their displeasure in Gameforge's move in pushing more and more pay-to-win content as well as cosmetic options that cost more than 2000 Euro each. Although they may not have responded to the feedback well at first (they did try though), it is obvious they have heard what their community wanted from the eventual game patch that is well-received by the TERA community.

The company also has good foresight and has taken the plunge into the mobile market in 2012 with 5 games in total, including the mobile version of Ikariam that utilizes the free-to-play plus micropayment system, which has boosted their revenue significantly in 2013. On top of that, as Gameforge's games portfolio continues to be further expanded with new titles, it seems that Gameforge can only be going in one direction... that is upwards!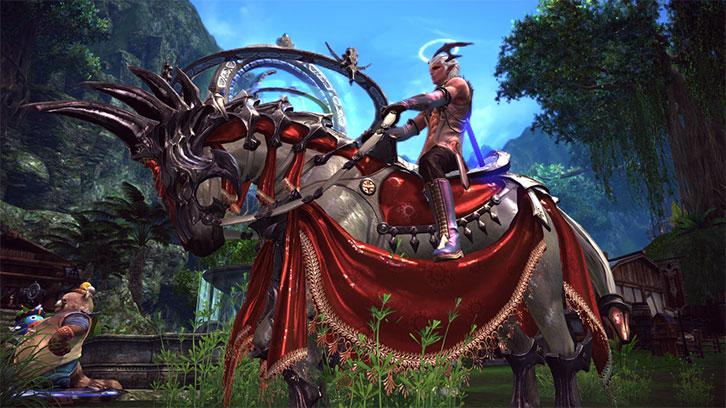 What does the future hold?
Besides recently publishing the English version of the popular French text-based MMORPG Therian Saga (its French name is "Fatecraft"), Gameforge currently has 2 games in beta, namely Orcs Must Die! Unchained - the ultimate MOBA/RPG/TD hybrid game, which is currently in closed beta, and the MMOCCG, HEX: Shards of Fate, which has moved into the open beta phase early this year. It is estimated that both games will be fully released by the end of this year.

Gameforge has also started moving HEX: Shards of Fate towards the esports sector by organizing tournaments. Their most recent tournament that was held in March of this year boasted of providing up to 100 thousand USD in terms of prize money... which is pretty impressive for a relatively new and unknown game. If you're interested to take a look at the list of games that Gameforge has published over the years, you can take a look at our Gameforge Games List to find out more!
Featured Games
Blade & Soul Avenge your massacred brothers and sisters in Blade & Soul's epic story of war and betrayal!
Fer.al Embark on an exciting adventure through the many iconic locations in Fer.al as a sleek animal avatar!
Forge of Empires Starting with a small Stone Age settlement it is your task to create an empire and follow it onward throughout the centuries!
Sinespace Explore tons of gorgeous, player-created worlds or create your own in Sinespace!
Lady Popular Dress to impress in a stunning virtual fashion game where you can own the catwalk.
Tribal Wars 2 Rally your armies, fortify your castle walls and lead your soldiers to glory in Tribal Wars 2 today!
Statistics
Games1,349
Articles459
Surveys65
Blog Posts4,132
Users3,108
User Reviews159
Find us on Facebook