Games starting with N
NBA CLASH is a synced real-time PVP basketball game where you control your team of NBA players. Build your roster of players according to your preferred playstyle and score points through dunks, layups, midrange jumpers, and threes. Play defense through steals and blocks, rise to the top of the leaderboards, and build your dynasty.
10
rate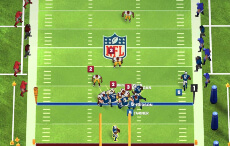 Create your unbeatable NFL dream team in NFL Clash and challenge fellow fans worldwide.
10
rate
Help your new master build and manage the most efficient and profitable dungeon in the land in this Dungeons series-like dungeon-building and management game!
7
rate
Dive right into the life of a captain of a whaling ship in the mid-nineteenth century in this brilliant strategy/management game, Nantucket!
10
rate

Rid Konoha of its villains and fight for your Hokage alongside familiar and much loved characters from Naruto!
8
rate
Join the game`s intrepid heroine as she solves unique mini-game puzzles, finds hidden items and interacts with colorful characters in this nice hidden object game! Begin your journey today!
8.5
rate
Take command of your ship and sail to victory in this World War I & II naval battle game, Navy Field 2!
8
rate
Descend into the crypt of the Lord of Evil to secure a powerful artifact that will make your dream of vengeance come true in this fun puzzle adventure, Necroboy: Path to Evilship!
9
rate
Get behind the wheel in Need for Speed: Payback and race to your heart's desire while bringing down cops!
10
rate
If you ever wanted to try the world of street racing without all the danger now is the time in this brilliant driving game based on the popular Need for Speed Series. Work your way up the ranks and buy super cars to race in. Fully customize your ride with new parts & decals before you take to the streets.
10
rate
Dive into Lina's life as a Neo Cab driver who's struggling to earn a living in a city that's gradually being monopolized by driverless cabs in this fascinating interactive story!
10
rate
Dive into Neo Geo Pocket Color Selection Vol 2 and be treated to a massive selection of Neo Geo Pocket games.
8
rate
Battle countless enemies using an endless supply of weapons and be part of a squad recruited by Hades himself in Neon Abyss.
10
rate
Neon Mine is a logic puzzle game - essentially a minesweeper title with a twist!
9
rate
Design the best set-up to prepare and whip up a variety of delicious 3D-printed food with the help of conveyor belts and programmable robots in this coding-based puzzle game, Neon Noodles!
9
rate
Featured Games
Blade & Soul Avenge your massacred brothers and sisters in Blade & Soul's epic story of war and betrayal!
Forge of Empires Starting with a small Stone Age settlement it is your task to create an empire and follow it onward throughout the centuries!
Sinespace Explore tons of gorgeous, player-created worlds or create your own in Sinespace!
Lady Popular Dress to impress in a stunning virtual fashion game where you can own the catwalk.
Tribal Wars 2 Rally your armies, fortify your castle walls and lead your soldiers to glory in Tribal Wars 2 today!
Wizard 101 Enjoy the fantastic Wizard 101, become a Wizard, collect pets and battle mighty foes in a brilliant free game.
Statistics
Games1,900
Articles647
Surveys65
Blog Posts7,736
Users3,729
User Reviews162
Find us on Facebook