Games starting with N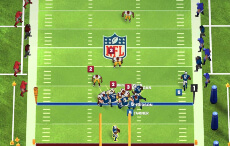 Create your unbeatable NFL dream team in NFL Clash and challenge fellow fans worldwide.
10
rate
Set off on your personal journey to hunt down and slay the infamous Moby Dick in this brilliant strategy/management game.
10
rate
Engage in epic battles alongside Naruto and his friends in this turn-based role playing game, Naruto Online!
8
rate
Join the game`s intrepid heroine as she solves unique mini-game puzzles, finds hidden items and interacts with colorful characters in this nice hidden object game! Begin your journey today!
8.5
rate
Take command of your ship and sail to victory in this World War I & II naval battle game, Navy Field 2!
8
rate
Get behind the wheel in Need for Speed: Payback and race to your heart's desire while bringing down cops!
10
rate
If you ever wanted to try the world of street racing without all the danger now is the time in this brilliant driving game based on the popular Need for Speed Series. Work your way up the ranks and buy super cars to race in. Fully customize your ride with new parts & decals before you take to the streets.
10
rate
Dive into Lina's life as a Neo Cab driver who's struggling to earn a living in a city that's gradually being monopolized by driverless cabs in this fascinating interactive story!
10
rate
Battle countless enemies using an endless supply of weapons and be part of a squad recruited by Hades himself in Neon Abyss.
10
rate
Collect as many pets as you can in this virtual world, Neopets. You can buy them food, give them toys or even give them their own pet!
8
rate
Step into the magical world of Neverland and enjoy games of solitaire with Alice today in Neverland Solitaire!
8
rate
Dive into the world of New Frontier, fight hellish monsters and survive in the wild west.
8
rate
New World is an MMORPG developed by Amazon Games and is their first significant foray into the gaming industry. Set in the land of Aeternum, you'll create your own character and explore the dangerous locales, traverse through towns, go on adventures with friends and faction-mates, or stay in town and craft and trade items.
10
rate
Being the ruler of an empire in New World Empires isn't at all easy and you'll need your every wit to survive and thrive!
7
rate
Battle the Order of the Dragons and fight for the survival of humanity itself in this brand new MMORPG, Nidia!
7.8
rate
Featured Games
Blade & Soul Avenge your massacred brothers and sisters in Blade & Soul's epic story of war and betrayal!
Forge of Empires Starting with a small Stone Age settlement it is your task to create an empire and follow it onward throughout the centuries!
Sinespace Explore tons of gorgeous, player-created worlds or create your own in Sinespace!
Lady Popular Dress to impress in a stunning virtual fashion game where you can own the catwalk.
Tribal Wars 2 Rally your armies, fortify your castle walls and lead your soldiers to glory in Tribal Wars 2 today!
Adventure Academy Dive into a world full of adventures and learn while having some incredible fun by attending the Adventure Academy!
Statistics
Games1,601
Articles572
Surveys65
Blog Posts5,746
Users3,412
User Reviews162
Find us on Facebook