Games starting with F
Step into the world of F.E.A.R in a brilliant MMO FPS.
8
rate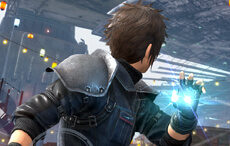 Join the SOLDIER project as a candidate and become the first elite soldier in Final Fantasy VII: The First Soldier!
10
rate
Build your dream team and challenge other teams to matches so you can be the best football team!
9
rate
Take some of the worlds best players and put them into your team as you build a squad from a huge lineup. Train them, set the formation and then take them into real time matches to dominate the league and world in this stunning football game.
10
rate
Experience a unique gameplay combination in Faeria! Featuring a familiar card game mechanic with a mix of board game and strategic turn based game, you can build your own deck and challenge other players to test your skills. You can also play the game solo as you complete the campaign missions for hours if you're not much of a competitive gamer.
10
rate
Save trapped faeries in various gorgeous worlds in this fun yet interestingly-strategic, match-2 solitaire game, Faerie Solitaire Harvest Free!
10
rate
Are you ready for a solitaire adventure? Head out to the golf course and play a game of hi-lo in Fairway Solitaire.
10
rate
Throw your golf bag in the backseat and head on to the golf course to enjoy great tee times in this brilliant golf-themed solitaire game, Fairway Solitaire Blast, now!
10
rate
If you're looking for a match-3 game that screams "innovative" and is visually appealing, Fairy Mix is definitely the game for you!
10
rate
Help the Princess and her dwarf companion to defeat the evil witch in this match-3 puzzle game, Fairy Quest!
7.5
rate
Join Lucy, Happy, Natsu and other popular characters from the Fairy Tail universe in this web-based MMORPG of the same name!
9
rate
Help Fairy Tail maintain its title as the most powerful guild in Fiore by battling opponents at the annual Grand Magic Games!
9
rate
Try to get through bizarre and chaotic obstacles in Fall Guys: Ultimate Knockout with up to 60 players!
10
rate
Bring your daughter, Aether, to the last place on Earth that still sees the sun in this hardcore dungeon crawler game, Fall of Light!
8
rate
Family Barn is a simple but unique farming game where you can make things grow with a rainbow rain, take care of wild animals like pandas and kangaroos, and decorate your land with lovely things. Discover a world of many possibilities in this charming farm game!
10
rate
Featured Games
Blade & Soul Avenge your massacred brothers and sisters in Blade & Soul's epic story of war and betrayal!
Forge of Empires Starting with a small Stone Age settlement it is your task to create an empire and follow it onward throughout the centuries!
Sinespace Explore tons of gorgeous, player-created worlds or create your own in Sinespace!
Lady Popular Dress to impress in a stunning virtual fashion game where you can own the catwalk.
Tribal Wars 2 Rally your armies, fortify your castle walls and lead your soldiers to glory in Tribal Wars 2 today!
Adventure Academy Dive into a world full of adventures and learn while having some incredible fun by attending the Adventure Academy!
Statistics
Games1,451
Articles522
Surveys65
Blog Posts4,724
Users3,255
User Reviews162
Find us on Facebook